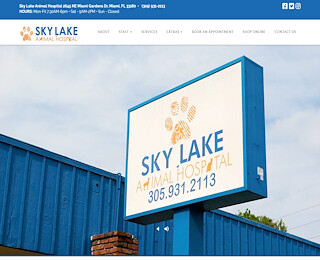 Your pet is a member of your family and when it needs medical care you need to choose an animal clinic in Aventura. A veterinarian will provide all types of medical care for your pet including wellness and preventative care as well as diagnosis and treatment of illnesses and injuries.
Pet Wellness Services
It is important to get regular check-ups for your pet. An animal clinic in Aventura provides care to keep your pet healthy and happy. Your vet will identify potential problems before they turn into serious concerns.
During a wellness exam the vet will examine your pet from head to toe. He will examine your pet's teeth and mouth, eyes and vision, ears, respiratory system, heart, lymph nodes, reflexes, and skin. In addition, he will check the joints and muscles for signs of arthritis or other conditions.
Testing will be completed to check the function of the internal organs and blood. A fecal check will be completed that will identify whether parasites are present. Deworming is done to treat your pet for roundworms, hookworms and tapeworms. Blood work will find any potential problems and can be used as a baseline for future issues. Your pet will also be checked for fleas and will be prescribed medication to prevent heartworm.
Care for Senior Pets
As pets age they require special care and treatment. A senior preventative care plan will address all of the special needs of an older animal. Our animal clinic in Aventura includes a glaucoma check, blood count and full blood panel, urinalysis, heartworm test, abdominal and chest radiographs, blood pressure monitoring, internal parasite test, thyroid test and electrocardiogram if needed.
These tests are part of the routine wellness examinations and are not lengthy, difficult or painful. The results will help your vet determine whether there are any concerns in any particular areas. If so, further testing and analysis can be done to find and treat potential illnesses before they worsen.
In addition to wellness care, our animal clinic in Aventura provides laser therapy. Laser therapy is ideal for the acceleration of healing of injuries. It reduces pain and inflammation and is recommended for post-operative care as well as for the treatment of skin wounds, arthritis and other conditions.
Good dental care is essential to the health of your pet. Dental cleaning can be performed to remove plaque and tarter that accumulates on the teeth. Sometimes a tooth may become infected and requires extraction. These services are helpful in keeping your pet healthy.
When your pet is sick he can't tell you what is wrong. Instead, you need to pay attention to any signs of illness so you can get medical care when needed. If your pet gets hurt or injured he may require fast diagnosis and treatment. Call for an immediate appointment if your pet is sick or injured. The vet or veterinary assistant will give you guidance over the phone.
At Sky Lake Animal Hospital we treat all types of pets and provide wellness care as well as immediate diagnosis and treatment. Contact us today for an appointment.